Office presentation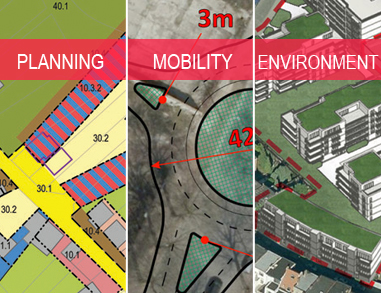 Up&Cie is an independent consulting company, active in the fields of territorial planning, urban planning, traffic engineering, mobility and environment.
Our company's approach is based on our aim for excellence, integration of social questions and improvement of the living environment. From the very start, we work in close interaction with our clients in order to realize projects and studies that comply with their objectives and their philosophy. Up&Cie deals with every project in a customized way, in order to adopt creative, pragmatic and efficient solutions tuned to the specific, local needs.
Our know-how is based on the alchemy that came into being by putting the competences of our collaborators in a common pool: engineers, urban designers, architects. This multidisciplinary and transversal vision allowed us to develop a high-end know-how with which we are able to integrate and transcend the various needs of urban projects: integration within an urban and social context, durability, economical feasibility, technical requirements, communication and participation.
Up&Cie originates from the will to offer high quality services to a multitude of customers: local authorities, architects, developers and private persons. The diversity of our customer base contributes to enriching the reflections we are associated to.